---
A Historical Account of the Town of Carlton – May 2008
The following is a brief statistical history of the Town of Carlton in Orleans County, New York.'The Bridges' built approximately 1846.
Carlton's first settlement was made in 1803 by two brothers, James and William Wadsworth, who soon moved further west in New York State. They were subsequently followed by the Brown, Dunham, Lovewell and Root families who stayed.
Carlton was formed from the Towns of Gaines and Ridgeway on April 13, 1822 and known under the name of Oak Orchard until 1825 when the name was changed to Carlton. It is thought the name Carlton was chosen honoring Sir Guy Carleton (1724 – 1808), who served as Governor of Quebec from 1786 – 1796. Carleton was also a shipbuilding district near Ottawa, Ontario, Canada.
Carlton is located at the north middle of Orleans County, between the towns of Kendall to the east, and Yates to the west. The Town of Gaines borders to the south, and a small portion of the Town of Ridgeway touches the southwest corner. Our town has always had the same borders.
Carlton is crossed by the two largest streams in Orleans County; Oak Orchard River with Johnsons Creek some three miles west. Both streams cross the town in a northeast direction and are navigable to boats of about 40 feet in length and without a deep draft. Both streams freeze over in winter while Lake Ontario does not. The surface of the town is generally level; except for Oak Orchard Gorge. The soil is sandy loam inland and clay near the lake. Carlton contains a total of 26,385.5 acres of land.
Built approximately 1846
Covered Bridge: circa 1900
Oak Orchard Creek
---
The Rome, Watertown, and Ogdensburg Railroad Line, commonly known as the "Ho-Jack" Line, was completed in 1876. It traversed the town on almost 10 miles of track passing through Kent, Carlton Station, Waterport, and Ashwood. Each community had a station as the railroad carried passengers until 1933, including youngsters to schools, workmen to work, shoppers to shop, and immigrants from across the oceans to begin new lives. The line continued to carry freight until it closed in March of 1978 and since that time the rails and even the trestle at Oak Orchard Gorge have been removed.
Farming has always been Carlton's major industry. As a result each community had a grist-mill, saw-mill, dry house, packing house, or cold storage at one time. Frozen food research was pioneered in 1926 at Growers Cold Storage in Waterport. The business of farming has and does employ anywhere from a single family to as many as over 100 people in any one season.
Other businesses in the past and present include fishing and tourist related enterprises. These would encompass marinas, restaurants, farm markets or gift shops, cottages, motels, and bed and breakfasts in the present; while in the past many communities had one or two hotels and each had at least one general store. Dry houses did a brisk seasonal business years ago, along with mills.
School was first taught in Carlton in 1810, with Peleg Helms being the first school teacher of record. At one time, Carlton had 17 school districts. Waterport had a high school until the last student graduated in January of 1944. This school continued as a grammar school, a satellite of the Albion Central School system until June of 1989. Carlton is presently served by the Albion, Kendall, and Lyndonville Central School systems.
Over the years several churches have been active in Carlton. There were Baptist churches at The Bridges in Kent, Methodist Episcopal churches were built in Kenyonville (1833), Kuckville (1835) and in Waterport. Religious services had commenced on a regular basis as early as 1816. The Bridges had a Congretational Church for a brief period in the mid-1800's which later became a Presbyterian Church. Currently the Carlton United Methodist Church and the Royal Church of God in Christ are the only places of organized worship.
Waterport Business District: circa 1880
Lynnette
Oak Orchard Creek: circa 1960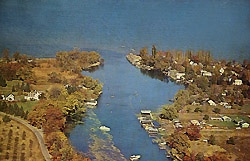 ---
Carlton is served by four post offices: Albion, Kent, Waterport, and Lyndonville. Only Kent and Waterport are within the Town. In bygone years there were post offices at: Carlton (1877 – 1935), Ashwood also known as Carlyon (1876 – 1907), the Bridges (1865 – 1904), Lakeside (1895 – 1902), and Point Breeze (1888 – 1914).
Albert L. Swett of Medina harnessed the waters of Oak Orchard River, at Waterport, by building a dam and power plant in 1917 – 1919. This dam caused the widening of the waters in the vicinity of Waterport to Kenyonville and is now known as Lake Alice. In earlier times this wide-water was called Lake Carlton or the Waterport Pond. The power plant is still operating.
Carlton had a few telephones by the mid-1800's when the Albion-Carlton Telephone Company was organized.
Carlton's Water District was created and the first trenches dug in 1975. Since then this system provides water to residents through over 50 miles of line.
The Lakeside Beach State Park was opened in June of 1968. It comprises 745 acres including 274 campsites, a day-park picnic area and two boat launch marinas.
Actual communities of Carlton defined by maps from 1875 and 1998 are Waterport, Kent, Sawyer, Carlton Station, The Bridges, Point Breeze, Oak Orchard-on-the-Lake, Kuckville, Lakeside, Kenyonville, and Ashwood.
Proposed plan of the rebuilt LighthouseThe Town of Carlton maintains three cemeteries: Kent, Carlton, and Waterport. The Kenyonville Cemetery is maintained by its own cemetery association and has lots for sale. Cemeteries no longer in use are: The Fuller Burial Grounds (also known as Old Carlton), the Brown or Bridges Cemetery (containing the first burial in Orleans County), the Billings Farm Burial Grounds, the Simpson Burial Grounds, and the North Kent Cemetery. Where there are still visible stones the Carlton Highway Department maintains the burial grounds.
A Lighthouse once stood on the west side of the Oak Orchard River at Point Breeze. The lighthouse and accompanying piers were maintained until 1905 when they were abandoned by the US Government. During a storm in 1914, a large hole was washed through the west pier. Another storm in 1916 swept away the lighthouse and what remained of both piers. Efforts are currently underway to rebuild the Oak Orchard Lighthouse. Please visit oakorchardlighthouse.org for more information.
Oak Orchard Lighthouse
Oak Orchard Lighthouse